17/08/2022
LOTTE EXPERIENCE GALLERY COMPETITION WIN
Van Aelst I Nguyen and Partners has won the design competition for the LOTTE Experience Gallery. The Lotte Experience Gallery is part of the Lotte Eco Smart City Project, located at Thu Thiem Urban Area in the Center of Ho Chi Minh city and destined to become the most modern financial center in Southeast Asia. 
Lotte Group is a prominent conglomerate that has made a significant impact in various industries, both domestically in South Korea and internationally. Founded in 1948, Lotte has grown into a diverse and dynamic corporation with a global presence. 
With its headquarters in Seoul, Lotte Group operates across a wide range of sectors, including retail, hospitality, chemicals, food and beverages, entertainment, finance, and more. The group's subsidiaries and affiliates span numerous well-known brands and companies, each contributing to Lotte's overall success and reputation.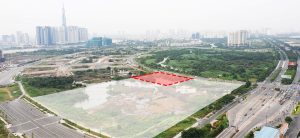 The Design Vision and objectives are to promote the Lotte Eco Smart City Project, creating and exciting creative gallery with integrated high technology features. The goal is to create an experience oriented building which stimulates the 5 senses with a strong emphasis on feeling and emotions. The building will demonstrate leadership in sustainability which is also an important part of the Lotte Eco Smart City project. 
Currently the project is still confidential but once launched, we look forward to share the design information to be released soon.